How would you like a crypto trading platform that offers simple access to more than 150 cryptocurrencies from anywhere in the world? Is your current exchange limited by its features and markets? Read this review and discover where to trade cryptocurrencies.
If so, it's time you discovered Changelly. That's an instant crypto exchange that offers instant and easy crypto exchange and purchases with a bank card.
What Is Changelly?
Changelly offers instant cryptocurrency exchange services. This helps you exchange cryptocurrencies fast and to buy crypto using a bank card. It boasts of the best rates and currently supports more than 140 cryptocurrencies.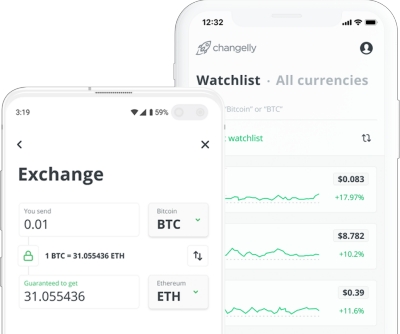 Changelly's algorithms are integrated into the largest exchanges, such as Bittrex, Binance, and Poloniex. Changelly can accomplish bids and asks on different platforms and then recommends the best rates and features them on the Changelly site. All values are approximate until any transaction is made from the blockchain.
Top Rated Bitcoin Exchange 2020
EXCHANGE

RATING

FEATURES

VISIT


Excellent Reputation

Regulated PlatformVariety of CoinsAvailable via App

66% of retail investors lose money
when trading CFDs with this provider
Creation of Changelly
The creators of Changelly did their best to develop an exchange that offers effortless operations and access to a huge portfolio of cryptocurrencies. It has been developed following the best industry practices.
Established in 2015, the current CEO of Changelly is the extremely experienced Eric Benz. Given its years-long history, it's highly likely that you're already familiar with the exchange, or at least, you've heard of it.
Is Changelly Safe?
As far as users say about Changelly, it's safe and reliable. It has more than 2 million users coming from all over the world. It provides fast and safe transactions without compromising users' safety. Also, Changelly has the best rates compared to other popular crypto exchange networks.
Changelly does not ask for any deposit storage. You can guarantee that your account is protected using a 2-factor authentication system and a stable HTTPS protocol.
Changelly Sign-Up Guide
Changelly has a quick, easy sign-up process. Just visit the official website to start:
User Guide
Step 1: Sign Up Process
Joining Changelly is free. Just click Sign-Up and place your email address on the field. You may also use your Google Account, Facebook, or Twitter account to sign up. Just follow the instructions to finish signing up.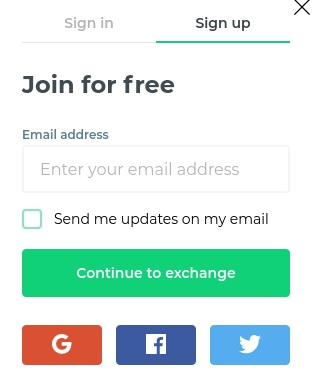 Step 2: Account Verification
Changelly protects its users using different account verification methods, and one of them is 2FA authentication. You must have a Google Authenticator app to complete verification.
Changelly does not ask for any documents to start trading. Once you create your account, you can immediately use it to buy or exchange crypto. However, if Changelly detects any suspicious activity, such as high-volume transactions, it may ask for documents before you proceed with any transaction.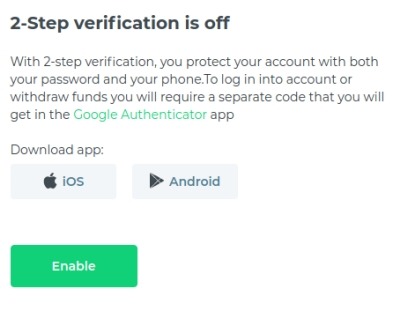 Step 3: Account Deposit
There are no deposits required for users before using Changelly. Users can immediately trade currencies as long as they have enough currency amount in their accounts. There is no minimum deposit to start using this exchange.
Step 4: Buying Cryptocurrencies
To buy crypto through Changelly, log in to your account, select your preferred fiat currency (USD/GBP/EUR), and the type of cryptocurrency you want to buy. Enter the amount of cryptocurrency or the amount of fiat currency you will spend.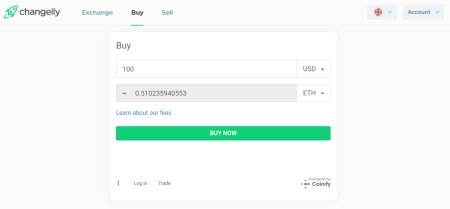 Click Exchange and enter the address of the receiving wallet and follow the prompts. Enter all the information needed. If you're paying using your credit card, you will be asked to input your credit card number, CVV, expiry date, and other information related to your account. Enter verification codes from your bank usually delivered through SMS or via phone call.
Step 5: Selling Cryptocurrencies
Changelly only allows Bitcoin to EUR. You can sell a minimum of 250 EUR and 10,000 EUR maximum for Basic KYC accounts and unlimited amounts with the Advanced KYR account.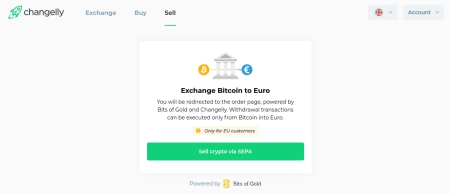 EUR transfers are through a SEPA account and can take up to 3 business days to complete.
Changelly Fees
Changelly charges 0.25% and 5% for fiat to crypto exchanges with a +5% Simplex Fee. Network fees are in real-time and based on the crypto you want to trade and the load placed on the blockchain. To give you an idea, Bitcoin fees are approximately 0.00085BTC, Ethereum at 0.00042ETH as well as Litecoin at 0.003LTC.
If you use cryptocurrencies, you are not charged for deposits and withdrawals. But if you purchase digital tokens with your debit card or credit card, a fee will be charged at around 5%. An additional 5% fee is asked for bank charges to transfer to a SEPA. Users also bear a 5% Simplex fee, which is asked for credit card transactions.
Changelly Deposit & Withdrawal Methods
Deposits are made using different payment methods, including credit cards and debit cards. However, only Visa and MasterCard with a 3D Secure feature are accepted. You may also deposit funds using cryptocurrency. Meanwhile, fiat currencies such as EUR, GBP, and USD are accepted.
If your credit card or debit card is in another currency, ask your card issuer to convert funds to any of these currencies.
Cashouts or withdrawals are only available using Bitcoin to EUR. EUR funds must be transferred to a SEPA account to be transferred. It can take 3 working days for the funds to reach your account.
Features of Changelly
Advantages of Changelly
Changelly offers only the best rates coming from its industry partners. It has minimal fees compared to other exchanges and accepts most cryptocurrencies such as tokens, coins, and altcoins. It is a good exchange platform for new users because of its helpful education center and tools.
How Does Changelly Compare to Other Exchanges?
Changelly trades only cryptocurrencies and does not trade metals, currencies, and stocks. It may not have the most number of cryptocurrencies, but it has a strong Bitcoin trading platform.
Pros and Cons of Changelly
Pros
✅Changelly charges no fees for deposits and withdrawals.
✅It charges very minimal fees for trading cryptocurrencies.
✅Offers a helpful crash course on trading crypto.
✅It offers a user-friendly app and online site.
Cons
❌You can only withdraw Bitcoin to EUR, and it needs to be credited to a SEPA account before transferring to your bank account.
❌Not all US customers can sign up.
❌Not all currencies are accepted.
❌Fewer cryptocurrencies accepted.
FAQs
Does It Take Very Long for Changelly to Exchange Currencies?
Changelly can take around 5 to 30 minutes to exchange currencies. The larger your transactions are, the longer the transaction time will take. Transactions that are higher than 1 BTC can take longer than 30 minutes.
Is Changelly Considered a Wallet?
Changelly's cryptocurrency exchange tool is integrated into a Huobi wallet, and this allows users to easily exchange crypto with other currencies found in the wallet.
Can I Pay Changelly With a Debit Card?
Yes, you can pay or deposit in Changelly using a debit card or a credit card, but this must be a card with 3D security features. Your card can be from any country as long as it is converted to USD, GBP, or EUR currency.
Where Is Changelly's Headquarters?
Changelly is headquartered in Prague, but it operates around the world in selected countries and US states.
How Do You Exchange Your Cryptocurrency With Cash?
You can sell your crypto in a cryptocurrency exchange platform like Coinbase, Kraken, or Changelly. Simply sign up, complete the account verification process and deposit BTC to your account, or you may buy BTC instead.
Conclusion
Changelly is a secure, easy to use, and efficient exchange system for cryptocurrencies. It covers popular cryptos; however, withdrawals are limited to only Bitcoins. There are still some limitations, as not all users can sign up. But if you're looking for a site that's novice-friendly, then this is it.
Top Rated Bitcoin Exchange 2020