Along with Covid-19, the number of related phishing sites and webpages have also spiked since January 2020 reports Bolster. And over the months it has gotten worse. So much so that in March there were over 8,000 webpages or sites related to Covid-19 scams that went live every single day. This, as per the report, is a drastic rise from 3,000+ Covid-19 counterfeit pages that were being made live each day in January.
When it comes to number of scams, in March there were 102,676 Covid-19 based scams on the web as compared to January and February's 4,842 and 10,236 respectively. "In the month of March alone, we found 102,676 websites related to medical scams, with 1,092 websites either selling Hydroxychloroquine or spreading misinformation about using it to cure COVID-19," said the report.
Also read: How to avoid Covid-19 online scams: Google explains
The Covid-19 phishing website domains reportedly used popular search terms and keywords to attract consumers looking for information, supplies and treatments. Some even used 'cryptocurrency' to dupe users.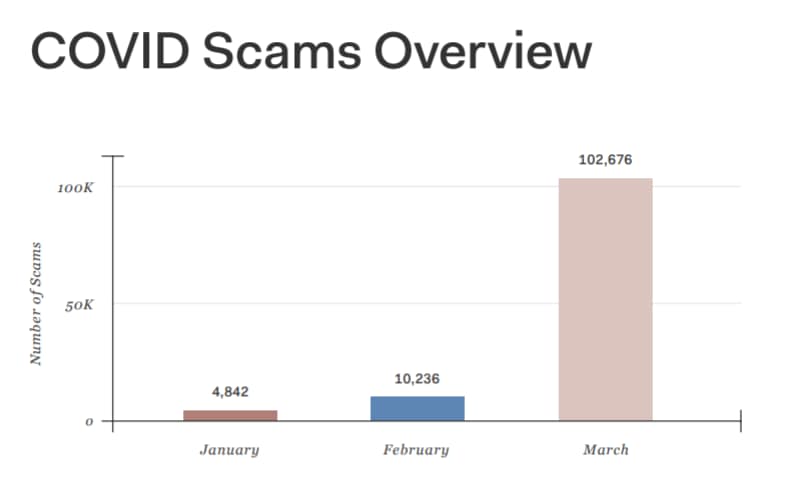 "We discovered multiple phishing websites peddling fake COVID cryptocurrencies and crypto wallets and aiming to siphon data for future phishing, targeted malware or credential stealing. One COVID-19 cryptocurrency bills itself as "The World's Fastest Spreading Crypto Currency" and attempts to get visitors to download suspicious files off GitHub," the report added.
Also read: Hackers are impersonating Zoom, Microsoft Teams, Google Meet for phishing scams: Report
As for the countries hosting phishing and counterfeit websites on Covid-19, US was on top of the list with 61% of all scams on the web followed by Lithuania, Russia, Germany, British Virgin Islands, France, Netherlands, Great Britain and Australia.
However, the hosting firms and services were also quick to take down such website and pages. As per the report, Hostinger was the most responsive followed by CyrusOne, Google, NameCheap and Amazon.