There are so many Bitcoin exchanges out there today and they all claim to be reliable. However, only every few of these outlets can live up to their promises as many of them lack what it takes to provide top quality services to their clients. One of the most outstanding of them al is Paxful and it has cut a niche for itself over the years to be a reliable Bitcoin platform.
Paxful is one of the best peer-to-peer online marketplaces for Bitcoin that permit people to buy and sell Bitcoin. The platform has a global reach also and can be used by people from different parts of the world.
As a result, people from different countries can buy and sell Bitcoins with other people from across the globe without any hindrance using Paxful. The platform is not so difficult to use and even a newbie can navigate it without any hassle whatsoever.
What Is Paxful?
As mentioned earlier, Paxful is a peer-to-peer market place via which the end-users can buy or sell Bitcoin with virtually anyone across the globe and this is because this platform is accessible in virtually all countries across the globe. Paxful is special in many ways.
For example, the platform makes it possible for the trade to easily pay for the Bitcoin they buy via various payment methods. Studies have it that the platform supports over 300 payment methods.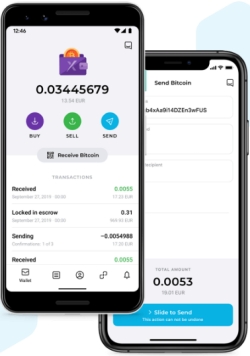 As a result, the buyer will always find a convenient payment method to use. Bitcoin buyers can even pay for the Bitcoin they buy via Apple Pay and gift cards. The traditional methods of payment, like an online wallet, cash, and even debit card methods are supported here.
The minimum amount you can transfer on this platform is $10, but some sellers may demand a higher minimum transfer. The maximum transfer equally depends on the seller.
Top Rated Bitcoin Exchange 2020
EXCHANGE

RATING

FEATURES

VISIT


Excellent Reputation

Regulated PlatformVariety of CoinsAvailable via App

66% of retail investors lose money
when trading CFDs with this provider
Who Created Paxful?
Paxful was founded by Ray Youssef and Artur Schaback. Since inception to date, the platform has recorded more than 50,000 members and it is growing by the day. It is always ready to partner with others and to accommodate more people to share in the satisfaction of hassle-free Bitcoin transactions.
Paxful is a child of necessity and it started off as a payment processor for retail Bitcoin. It later grew to become one of the major players in mainstream Bitcoin markets. The platform makes transactions very easy by providing a series of payment methods, thereby enabling its members to transact Bitcoin without any trouble whatsoever.
Under the leadership of Ray Youssef and Artur Schaback, Paxful has become a friendly marketplace for beginners to get Bitcoin very fast without any hindrance whatsoever.
Is Paxful Safe?
Paxful is not a regulated exchange. Because of this, the exchange can offer its service in virtually all countries of the world. However, the platform sees to it that all its customers go through ID verification on the platform.
This means that the end-user will have to go through a KYC process to ensure that it complies with the anti-money laundering standards across the globe.
Despite not been regulates, Paxful is a safe and reliable platform. It has one of the highest trust levels among Bitcoin exchanges across the globe. Since inception to date, there had never been a report of hacking and this means that the information and funds of the users are safe on this platform.
What is more, the platform had been taking effort since 2019 to further improve its security. Anyone transacting more than $1500 is now expected to undergo an ID Verification. Those who are transaction up to $10,000 are required to provide both proof of address and ID verification.
Quick Paxful Sign-Up Guide
User Guide
Step 1: Signing Up
The sign-up process will never take more than a few minutes. First of all, navigate to the home page and click on the "Create account" link, which you can find at the top right corner of the home page.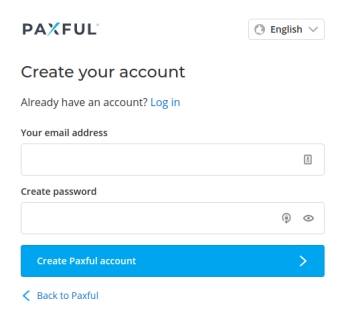 Provide your email and password to sign up. You also need to click on the box to agree to the terms and conditions.
Step 2: Account Verification
You may not need to verify your account if the total amount you transact does not reach up to $1500. If it does then you need to submit documents for ID verification.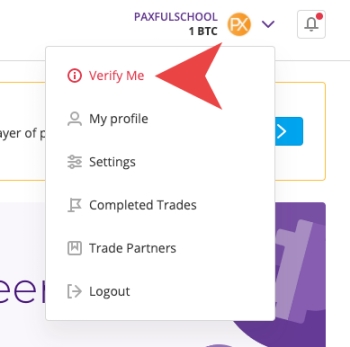 Those who transact up to $10,000 will be required to submit the ID verification document and proof of address.
Step 3: Account Deposit
The minimum deposit on Paxful is $10 and you can make a deposit via up to 300 deposit methods, some of which are bank transfer, credit and debit card, gift cards, cash by mail, EOS and so many other methods.
Step 4: Buying Cryptocurrencies
All the deposit methods mentioned above can be used to buy Bitcoin on Paxful. The process is easy and straightforward.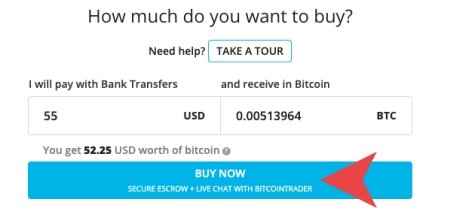 Step 5: Selling Cryptocurrencies
If you want to sell Bitcoin on Paxful, you need to first create a Paxful account or log into your existing account. After that, set your requirement and choose any payment method you prefer and that is all.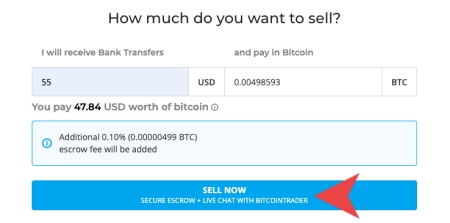 Paxful Fees
The withdrawal fee on Paxful is 0.0005 BTC. The taker fee is 1% and the maker fee so 0%. The maker is also the buyer, while the taker is the seller. Credit cards, debit cards, digital currencies, online wallets, and a cash purchase method will attract a 1% fee.
But there is no fee when you buy Bitcoin on this platform using any of the methods mentioned above. When you send Bitcoin to another Paxful investor, you will not pay a dime as a fee for the first 5 transactions in a month. The fee will always be charged in Bitcoin.
Paxful Deposit & Withdrawal Methods
Paxful supports various methods, including wire transfer, cryptocurrency, and credit cards. In fact, the platform supports up to 300 deposit methods.
Some of the cryptocurrencies supported are Dash, Bitcoin, Bitcoin Gold, Bitcoin Cash, Bitcoin ABC, Ark, and 11 more cryptocurrencies. The minimum deposit is $10, while the maximum deposit is determined by the person you are dealing with.
Features of Paxful
Advantages of Joining Paxful
Easy Purchase: The purchase process on Paxful is very easy and straightforward. There are about 300 deposit methods and you can use any of them to make your purchase of Bitcoin on Paxful. The amount of Bitcoin you purchase will also reflect in your account very fast. The platform is equally secure, which furthermore makes it a lot easier for the client.
Safe Platform: Paxful is a free platform for buying and selling Bitcoin. Every registered member is required to submit a verification ID and proof of address if his transaction is up to $10,000. This makes this platform safe for all since the customers are well known by the platform.
Reliable Live Chat: You can easily get in touch with the customer care agents via the live chat program on the home page. The customer care agents are highly responsive and will always be there to meet all your needs.
How Does Paxful Compare to Other Exchanges?
Recent but Powerful: Paxful is about one of the most recent Bitcoin exchanges out there today. Despite that, it has made a bigger name for itself than many other exchanges out there.
Easy to Use Platform: The platform is very easy to use also and a newbie will not have a problem navigating the website at all. This is rarely the case with many other exchanges.
Impressive Performance: Its weekly trading volume is $15 million, which is very impressive for a new company in the industry.
Assurance of Security: The platform is more secure than many other exchanges out there. It features 2FA verification via Authy, Google authenticator, and phone.
Low Fees: The seller will only be required to pay a 1% fee per transaction.
Escrow Services Available: Furthermore, the platform offers escrow service that further protects the interest of the Bitcoin buyer and seller.
Pros & Cons of Paxful
Pros
✅Paxful makes an effort to protect end-users' funds via 2FA, which can be done via phone, Google authenticator, and Authy.
✅It offers up to 300 methods of deposit. As a result, the end-users will not have a problem picking a method to use for depositing.
✅It is available in virtually all countries across the globe.
✅It offers a web-based trading platform.
✅Escrow service is available to help secure the funds of the buyers and sellers.
Cons
❌It is a relatively new platform, it was established in 2015.
❌The platform is not regulated.
❌You can only buy and sell Bitcoin on this platform.
❌Some scam activities have taken place for clients that do not use the 2FA security system.
FAQs
What are the Minimum & Maximum Deposits on Paxful?
The minimum deposit is $10, while the maximum deposit is determined by the seller.
Do I Need to Verify My Account on Paxful?
You will not need to verify your account at the start, but you will be required to do that as your transaction increases. To see verification requirements, just check our sign-up guide.
Does Paxful Offer a Mobile App?
Yes, Paxful offers a mobile app and you can download the app on your iOS and Android devices. The app makes transactions a lot easier than when you do it on the web platform. The mobile app equally gives you access to your own wallet where you can store and receive your Bitcoin. The ease of use of the app makes Paxful one of the best peer-to-peer Bitcoin marketplaces.
How Reliable Is Paxful's Customer Service?
The customer service is topnotch and one of the best ever. You can communicate with the customer care agents via a live chat platform on the website. They will also respond instantly to your messages.
Conclusion
Paxful is a relatively new Bitcoin exchange. The platform only deals on Bitcoin and the charges are very low compared to what you will find on many of the Bitcoin platforms out there today. The platform is also available globally and this is because it is not a regulated platform.
The escrow service provided here equally makes it one of the most reliable platforms to buy or sell Bitcoin. Thanks to the escrow, your funds can be protected until the transaction is completed.
Since Bitcoin can be lost or stolen, it is not advisable to buy a huge chunk of Bitcoin at once on this platform. Buying in piecemeal will be a lot better. The platform is relatively new but has gained popularity over the years.
The effort of the administrators to improve security is equally paying off. You should never forget to always get the 2FA right before you carry out any transaction here. Also, you will be required to submit your ID verification document once your transaction reaches $1,500.
Top Rated Bitcoin Exchange 2020